Piping Calculation Engineers
TA - ETUDES - CONCEPTION & INGENIERIE
Expérimenté (5 ans et plus)
Your role as team lead within our developing piping calculation team will be to utilise your experience and abilities to share knowledge with, guide and coach a team of entry-level piping calculation engineers.
Our piping calculation activities fit within a challenging project organisation and focus on the delivery of the project, with strong time schedule, cost-constraint, and high-quality expectations.
Framatome BHR is a highly specialised team that provides technical solutions to industry through a variety of fluid engineering-based products and services. with a proven track record of delivering highly innovative solutions to support clients operating in complex, regulated markets. We provide independent, confidential, and objective advice and solutions that helps our clients drive safety, efficiency and sustainability.
Within Framatome BHR team (MK43 0AJ) and it is essential that you are present on-site.
In addition to your high technical competence your success in this role will heavily rely on effective interpersonal skills and being able to build and maintain strong working relationships. As strengths, these will enable you to effectively interface with other disciplines of nuclear plant design, engineering operations and maintenance.
Following training, you will begin working at one of our client sites across the UK at become a client-facing representative of Framatome BHR.
This, and many other new opportunities to come, are to support the strategic development of Framatome in the UK. We have plans that will see rapid growth over the next three years. These plans will position us do deliver on the commitment we have made to supporting the UK nuclear industry with highly technological products and specialised services.

Framatome has an international reputation for offering a large and diverse variety of career opportunities. Our focus is to attract highly talented individuals who share our values before promoting internal development and career mobility.

Nuclear experience is desirable but not essential.
From day 1 you will be immersed in a training programme that will include, but not be limited to, specialist EPR reactor and pipe-engineering (calculation) courses paired with on-the-job training placements so fast-track your development.
As a team member within Framatome you will be expected to achieve success through your engagement with, and demonstration of, our Framatome values and behaviours.
The behaviours we identify in all our high performers include their abilities to:
ensure safety, environment and compliance
collaboration and teamwork
inspirational leadership and change management
developing self and others
holding self and others accountable
Framatome has a set of example « observable behaviours » underpinning each of these and we will be looking for these during the selection phases.
It is expected that, as a fast-track candidate, you will be on route to be up and running in the following areas within your first six months:
Gathering input data, analysing/updating hypothesis notes and loading description reports.
Performing piping flexibility calculations and calculation of piping supports/beams/trusses.
Performing advanced calculations with respect to Fatigue and fracture analysis.
Analysing the mechanical behaviour of the piping network with respect to codified criteria.
Proposing appropriate and proportionate modifications to satisfy sizing criteria.
Producing technical assessment notes.
Updating the calculation notes.
The role will likely involve your participation in the set-up of software tools and methods, including improvement of methodologies as piping experience develops.
Interfaces with other disciplines may include:
preparation of loading description report in relation with system activities.
validation of civil work interfaces.
validation of layout changes.
verification of equipment nozzle interfaces.

We have a world class training capability and will drive your piping engineering calculation expertise with development through basics, intermediate and advanced level techniques. You will begin at the appropriate level for your current level of knowledge and experience.
A key part of your training will include the following software:
Key Competencies
Professional approach with a commitment to learning and continuous improvement.
Ability to meet commitments and deadlines.
A good understanding of mechanical engineering and stress calculations/computations.
Understanding and implementation of project engineering procedures.
Very good interpersonal skills.
High competency for organization with the ability to deliver in a client/project design office.
Good level of communication to be able to support the team and share knowledge.
Essential Criteria
Mechanical engineering degree or equivalent.
Familiarity with 2D and 3D modelling techniques.
Understanding of stress analysis and some finite element methods.
Willingness to train in international locations.
Excellent written and verbal communication skills.
Live within a daily commutable distance of Framatome BHR (MK43 0AJ).
Desirable Criteria
Experience in piping calculations and software applications.
Knowledge of pressurised systems and pipework.
Experience of working on an operating plant or on an industrial site (licensed and regulated environment).
Knowledge and/or experience of power generation plant.
Safety Culture awareness.
We are an equal opportunity employer. We value and plan to continue to build on the benefits of our diverse working environment.
Everyone will be considered without attention to race, colour, religion, sex, sexual orientation, gender identity, national origin, or disability status.
Informations additionnelles
Spécialité : TAD - Conception mécanique
Niveau d'études min requis Bac+4
Lieu : Royaume-Uni, Cranfield, BHR, BHR
Déplacements : Non
Niveau d'emploi : Ingénieur & Cadre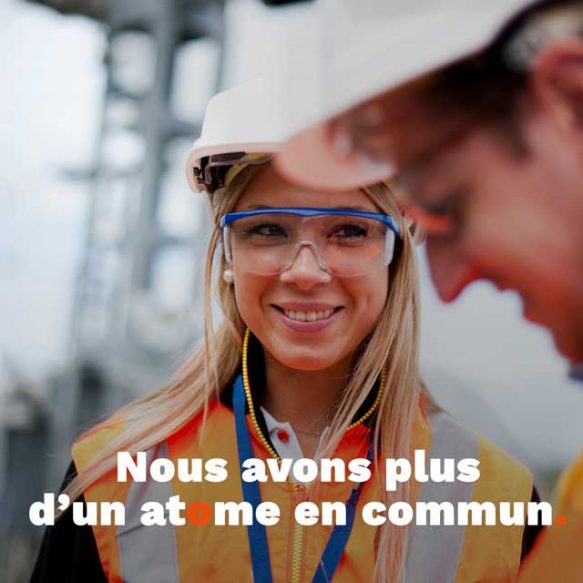 Rejoignez-nous
Vous souhaitez vous impliquer dans l'énergie bas-carbone et construire le monde de demain ? Vous rêvez de participer à des projets hors normes en collaborant avec des équipes internationales ? Vous cherchez une entreprise attentive à votre carrière et votre qualité de vie au travail ?

Alors rejoignez-nous, nous avons plus d'un atome en commun.