Ugine
Framatome
Avenue Paul Girod
73400 Ugine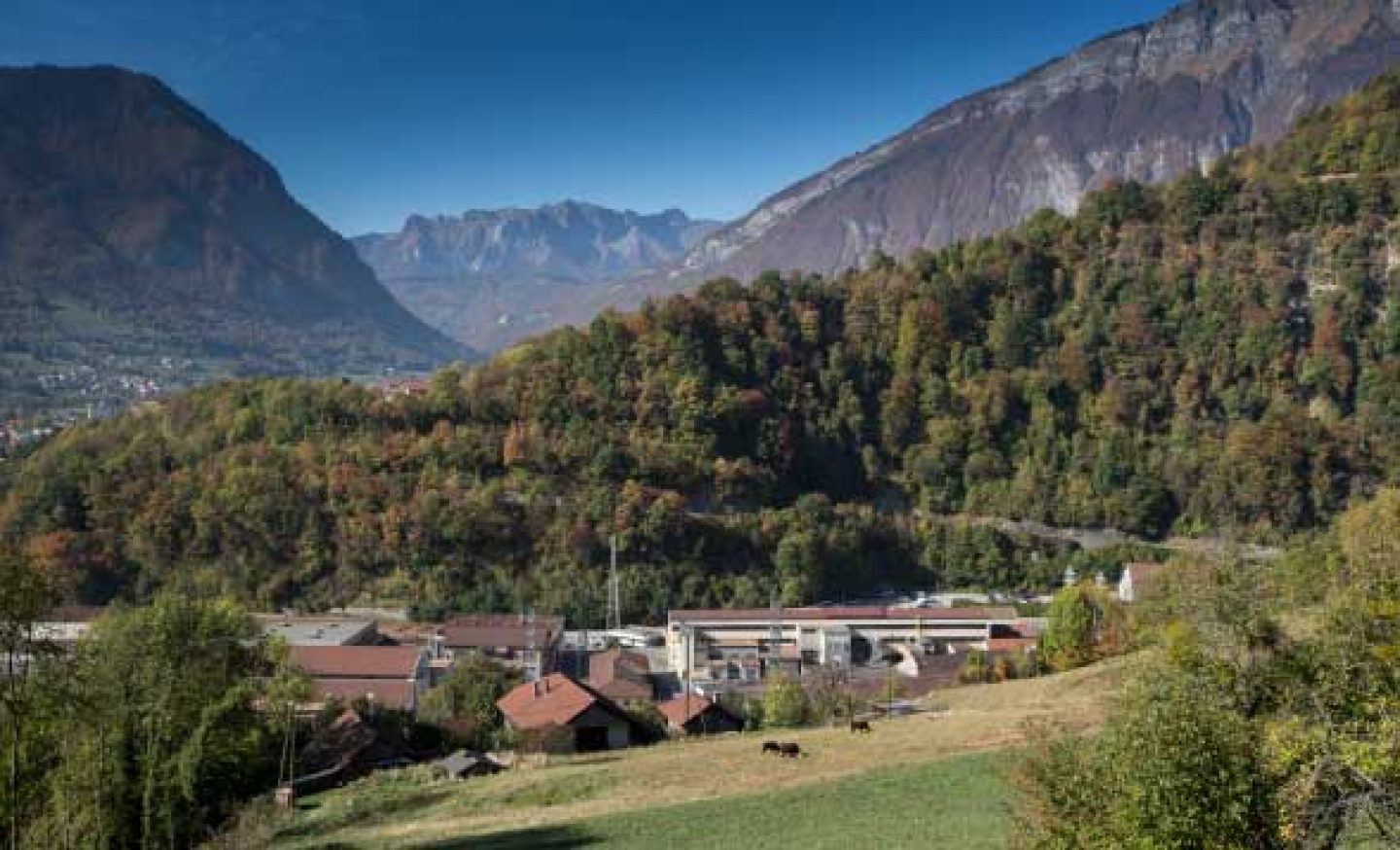 Manufacture of zirconium alloys
The Ugine plant transforms zirconium sponge supplied by the Jarrie site into semi-finished zirconium products. These materials are melted, forged and shaped into slabs (rectangular bars), bars or extruded hollows.
From zirconium sponge, the Ugine plant also produces alloys and melt and forge titanium products for TIMET Savoie.
The Ugine plant's main activities take place in different shops:
The pre-material preparation shop sorts the scraps and the recycled materials used to produce ingots.
The compaction shop assembles the various components of zirconium alloys into electrodes. These consist of chips of recycled materials, zirconium sponge and additives.
The melting shop melts the electrodes in electric arc furnaces to produce zirconium and titanium ingots through vacuum arc remelting.
The forging shop uses a 2,500-metric-ton press to transform the ingots into rectangular slabs or round zirconium and titanium semi-products.
The pickling shop primarily finishes the surface of forged products by removing oxidation
The billets shop transforms theseflat products into billets
The extrusion shop machines forged bars into pierced blocks that are subsequently heated, lubricated and extruded
The rod cap bar shop prepares the bar blanks before they are shipped to Paimboeuf in France
Products manufactured at the Ugine plant
Ingots: obtained through vacuum induction melting, zirconium alloy ingots are used in the nuclear industry while titanium alloy ingots are used in aeronautics. Titanium bars are shipped to TIMET Savoie and, after undergoing additional processing, are used in the manufacturing of aircraft jet engine components.
Slabs: used to manufacture flat products at the Rugles plant and obtained from forged ingots.
Bar blanks: obtained from forged and hot-rolled bars, they are transferred directly to the Paimboeuf site to be converted into endplug barstock. Once welded, the fuel caps seal the rods containing the nuclear fuel within nuclear reactors.
Extruded hollows: they are used to manufacture TREX at the Montreuil-Juigné site and are obtained by the extrusion of forged and machined blocks.
Framatome
Avenue Paul Girod
73400 Ugine